Spices Manufacturer & Exporter from India
In its 50 years long endeavours in the field of Spices Manufacturer & Exporter from India. Vacco Exports aimed at reaching international business types. Famous as one of the main spices manufacturers & exporters in India, Vacco.in is credited with offering a various range of categories into the market. Over placing importance on the value of understanding the true demands of buyers.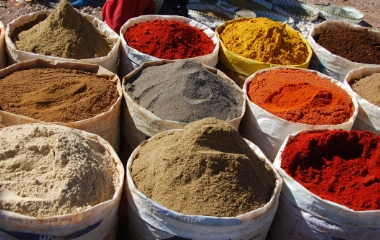 India is a heaven of exports spices and has attracted countries of the globe for centuries and even fights have been fought for them. India coveted place in the world of quality spices still stands unchallenged. Other countries have tried to replicate Indian spices; even though they could offer spices, the difference of quality of Indian spices remains gloriously un-replicated. Vacco a leading Spices Manufacturer & Exporter from India wide range of spice
Our Spices Range Includes:
Asafoetida, Tarmarind, Bay Leaves, Turmeric, Coriander, Celery, Fenugreek, Fennel, Dill Seeds, Cumin, Black Pepper, Ajwain, Chillies, Ginger
Our Spices are sourced from the highest standard quality spices growing areas. Spices are refined & ground under hygienic condition. Processing of includes cool filing to prevent the escape of volatile oils from spices, pure spices are mixed in traditional & suitable ratio packing is designed to retain the freshness of spices.
We make certain that the range is as per the industrial standards. For the benefit of clients, we issue an invoice to them including details of the transaction. Moreover, we maintain transparency in our payment method and dealings.
Description Of Spices Manufacturer & Exporter
Our variety of different types of Indian Spices are fresh, of optimal quality powder along with all types of solid seed spices. Our highly experienced staff ensures delivering unmatched industry standard product at affordable prices. We are a major exporter, importer in Mumbai India are highly valued for our expert packaging and timely deliveries.
Shelf Life: Long Time
Grade: A
Usage: Use In Food
Category: Food
Min. Order Quantity: as per client
We are here to guide our customers with the safe payment methods. With us, the customers get service to pay through both online and offline payment modes to stock our product for Spices Manufacturer & Exporter from India, we have a state-of-the-art area facility provided with the latest inventory control supervision system. It enables us to meet bulk or retail requirements with comfort.
Offer high-quality products and services at reasonable rates.
Convert such requirements into business opportunities, taking the primary mover advantage
Create wealth with social responsibility
The Sources of Indian Spices
Spices are described as "a strongly flavoured fragrant material of herb origin, collected from tropical plants, usually used as a condiment." In classical times, spice was valuable as gold and as important medicines, preservatives and perform. India the land of Spices, performs a vital role in the global spice demand. No country in the world provides as various kinds of spices as India does, with largest of the spices coming from Karnataka, Kerala. Vacco, with its sources coming from Karnataka, Kerala, the spices and different spice products manufactured and exported have since years been successful amongst the Indians living across for its taste and class.
The leading Indian spices exporters have truly gained the respect as people's first choice. Established in the spice-laden south-west region of the Indian Peninsula, the popular spices exporters in India have provided considerably to increase the quality of spices products around the globe.
We Are Export Quality Spices
We attribute its growing demand to the able commitment to proving world-class quality services to consumers. Generally known as one of the several famous food मसाले products companies in India, we are the proceeds large pride in being a good representation of high-quality Spices Manufacturer & Exporter from India. Having provided real products to a large number of enterprises, Vacco Exports is committed to increasing its results to a wider audience around the world.
If You Are Looking For Any Of Our Product Online Inquiry, Please

Contact Us
Give us a call: +91-22-27881083 / 84

Send us a mail: info@vacco.in

Come visit us: www.vacco.in